Welcome to FoodCASE Playground
This website was created to allow users to test the newest FoodCASE versions.
You can chose one of the two ways to launch FC (webstart or by opening the batch file from the downloaded ZIP). Contact Support to receive credentials to log in.
Before first launch >>
Webstart
Version 6.7.0, updated on 23.12.2020
Click on the icon to start download.
During downloading your browser may ask you if you want to download file, you need to agree.
After download, you will get a security prompt that ask if you are sure that you want to run the application. The application uses a self-signed certificate and that is why this security prompt show up. Just accept the risk and select Run.
ZIP Download
Version 6.7.0, updated on 23.12.2020
Download FoodCASE User Client or Admin Tool (zip file).
Extract zip file to the folder of your choice.
Go to that folder and double click on the FoodCASE Client.bat or FoodCASE Admin.bat. If you get a message that Windows protected your PC, click on more info and click on the button "Run anyway".
Works only on Windows OS.
Support
Please provide your contact information and describe the issue or topic you would like to discuss.

Our Support team will transfer the information to the proper people and will get back to you as soon as possible.

To speed up the process and avoid follow-up questions be precise with your request.
Before first launch
If you are working form inside your company network, you might need to add exceptions to your firewall. To do that, contact your system administrator and provide them the following information:
The port 50447 for server playground.foodcase-services.com needs to be open to run FoodCASE. The communication is Java RMI.
Java Security
Java blocks by default applications which are self-signed and you get the following message: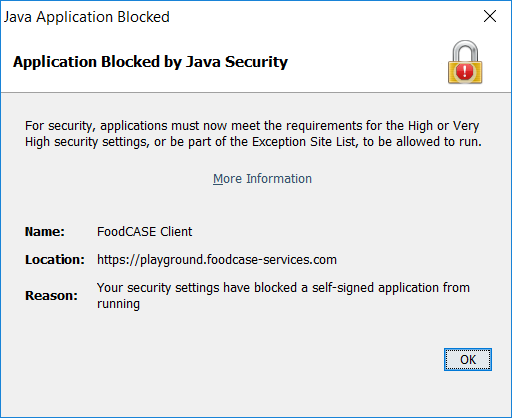 To avoid this launch Configure Java and open the Security tab.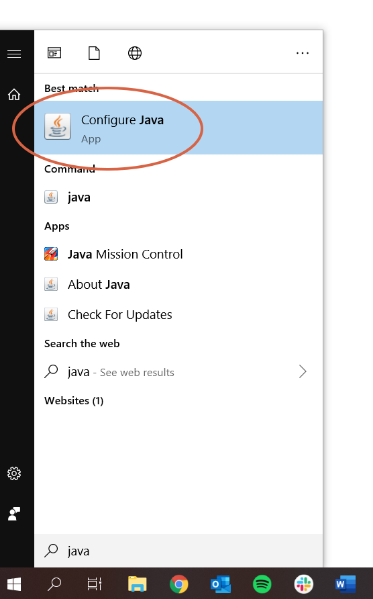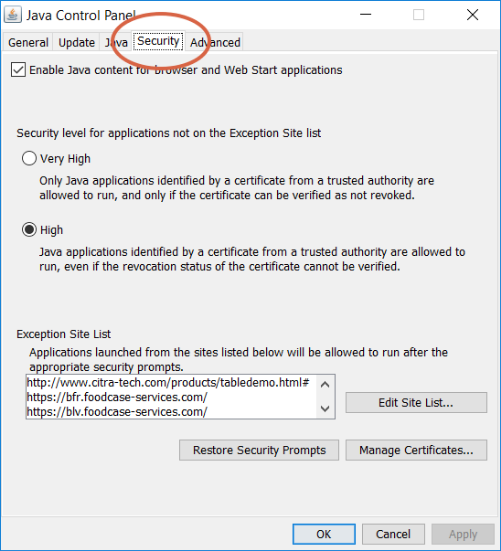 Select [Edit Site List...], then [Add] and paste the website address from where you want to launch FoodCASE. Select [OK] and close the Java Control Panel. FoodCASE will no longer be blocked.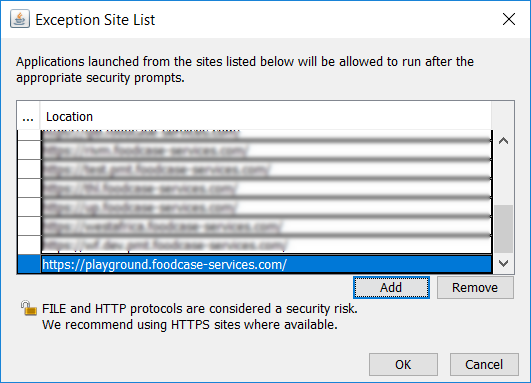 Now when launching FoodCASE you will see the following window. Just select that you accept the risk and want to run the application.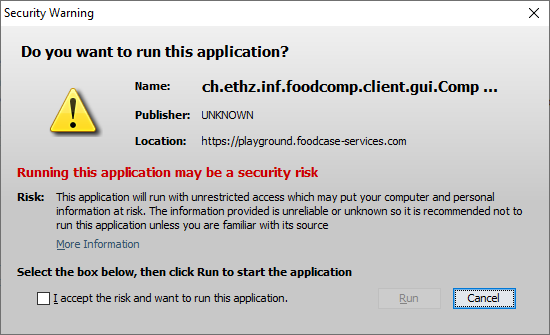 << Back